The votes are in! Students voted to read The Westing Game by Ellen Raskin! Orders have been placed. If you chose to purchase the book on your own, please have it to school by 4/23.
Assignments
No details found
---
This week in class

MON



TUES



WEDS



THURS



FRI



Survey Link

https://forms.office.com/Pages/ResponsePage.aspx?id=VocBlzf5xk-ceg5KoZCRZpAi2_HH7KJAgqlB50MpHCZUN0RQVENQM1lUQlFBRE00UFIzTUVaUUc5MC4u
---
Newsletter
Dear Parents, Our next novel will be an memoir entitled Small Steps: The Year I Got Polio by Peg Kehret.  Students will be introduced to the amazing story of courage and hope, Peg Kehret writes about months spent in a hospital when she was twelve, first struggling to survive a severe case of polio, then slowly learning to walk again. In addition, students will be required to choose a memoir, biography, or autobiography for their 4th quarter Book Talk. Small Steps can be purchased on Amazon or Barnes & Noble.  Please have all books to school by Wednesday, March 6th.                                                                                                                           Mrs. Higgins   If you have not already, please sign up for the Remind.com text alerts.  I will text reminders about upcomig summatives, projects, and more.   Periods 1/2: text @6cc8a9 to the number 81010 Periods 4/6: text @7f86g7 to the number 81010 Period 7: text @4bgdd9 to the number 81010   Book Orders will be submitted at the end of the day on 1/23.  Please click the RED box below to follow the link to my Scholastic page.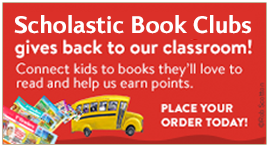 ---
Important Dates
No details found
---
Video List
No Links Provided
---
Cool Links
---
Downloads List
---